5

· Nov 28, 2017 by Black Cat
A fabulous spooky night out!!
Windsor Ghost Tours is a fabulous spooky night out!! Janice and family are wonderful as the hosts and their knowledge of Windsor and the haunted locations is second to none!! Being able to explore the cellars of the Macquarie Arms Hotel was a real highlight too!! We highly recommend this ghost tour to everyone that would love not only a spooky night out but also would love to learn about the stories and legends behind the people that may have passed on but still wander the streets and haunt the locations they used to live and work in!!
---
2

· Nov 16, 2015 by PammieP
Wasn't a Ghost Tour
This was not a ghost tour but merely a history tour at night
Over the years have been to mediums and in other ghost tours and my recommendation to the guides would be take a spiritualist with you and also include inside some buildings in the tour rather than just standing outside
As Historians the couple had great knowledge but at one point the host said of his only ghostly encounter "maybe it was the wind"
The tour had a large crowd and could have afforded the services of a real medium
Wouldn't recommend if your looking for spiritual encounters
We at Windsor Ghost Tours are sorry that you didn't enjoy the tour.
---
Learnt a lot about Windsor
Not the scariest ghost tour we have been on, but a very enjoyable night time walk around Windsor learning about its history. We got to go down to the basement in the pub, saw historic houses and buildings I had never seen before (and a cemetery I didn't know existed) despite having been to Windsor many times before. Overall, an enjoyable and entertaining evening.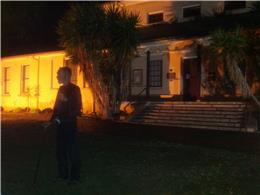 Glad you had a good night. We are always happy to introduce people to parts of the Hawkesbury many people miss. Janice