(The customer did not leave a review)
---
5

· Oct 20, 2018 by GREAT EVENING!!!
THANKS!!
Thanks indeed for a wonderful evening. Staff Fantastic! Debbie thanks for your help! Indeed a wonderful night with real paranormal experience. Family environment.
Looking forward to join the group for a new
---
5

· Jun 16, 2018 by Wendy
Australiana Pioneer Village
A great night, our tour guides Kevin an Bev where fabulous. Will definitely go again.
---
4

· Nov 27, 2017 by Cheryl
Night at Pioneer Village
Had a fun night touring the Australiana Pioneer Village. The buildings are fabulous to see, including all the artefacts inside. No spooky experiences were had, though many orbs in photos. Felt a ghostly presence or two, but nothing scary. I felt the groups were too big to feel anything at all in the houses, and would have liked to go with less people about. Staff were lovely.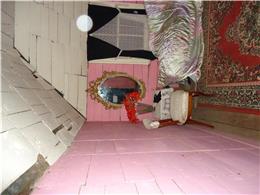 ---
5

· May 30, 2016 by Karen on APV ghost tour
Australian pioneer village ghost tour
Fabulous value for money, our group of ten all captured images on our cameras that were not visible to us ,yet appeared on our cameras which we can't explain. We were led by a fantastic friendly medium Deb and Kev our guide. Best night out I thoroughly enjoyed it from beginning to end.
---
5

· Aug 20, 2015 by Black Cat
Superb Tour - a must to do!!
A superb tour - fantastic tour guides and such a spooky atmosphere when the darkness descends on the village. Like stepping back in time!! Our tour guide was a medium so was such a unique experience to walk around with this lovely lady and hear about the resident spirits that are attached to the buildings. A couple of people in our group experienced some unusual feelings. My friend even heard someone say "hello" from behind. A little girl's voice. Two other friends in our group (completely apart at the time and out of each other's ear shot) said they thought they saw a little boy in on the buildings. That was pretty spooky indeed!! A must tour for ghost hunters and historians alike..Just an amazing experience. Great guides!!
---
Definitely a unique experience
An interesting tour as our group was guided by two people - a historian and a psychic. So we got to explore many old buildings and learnt about its history, past ghost stories, and a current psychic "read" of the building. Our psychic also attempted communication with the dead, and then a form of communication with the spirits previously unknown to me involving spirits channelling through her by singing. An entertaining tour, and an interesting place. Unfortunately I saw or felt no spiritual activity myself.